Contact us today to discuss your requirements
+44 7440158361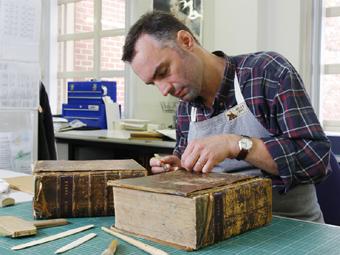 Binding Arrangement was set up by Colin Brown after graduating in England in 1988, when he began binding and conserving books and archives for private collectors and antiquarian bookshops.
Expanding, Binding Arrangement moved to Mistley Quay Workshops on the picturesque Essex/Suffolk border. Colin also began teaching bookbinding for Adult Education and branched out into library conservation work.
He conserved collections in National Trust libraries around England, rebound much of the Daily Telegraph's dilapidated library 19th century collection and began an ongoing conservation programme on Christies' archives in London.
In 2005 he moved to Adelaide, South Australia where as senior book conservator at Artlab, he supervised the conservation of the State's Library, museums and gallery book collections around the country. Artlab also attracted work from outside Australia which gave Colin the opportunity to work on books such as a valuable Islamic manuscript from Yogyakarta Museum, Indonesia.
Moving back to Europe, Colin restarted his private conservation work and set up a workshop in the South West of France, working for French collectors, university libraries and local councils.
Late in 2011, he returned to England where he relocated Binding Arrangement to its current location, at Cuckoo Farm Studios Colchester. In 2017, 2018, 2019 and again in 2022 Colin also worked as a Book and Manuscript Conservator for Corpus Christi Conservation Consortium at Cambridge University.
He continues to bind and restore books and archives on an individual basis; each book is lovingly given a new lease of life, treated sympathetically using traditional materials and techniques.
Newspaper articles about Binding Arrangement:
- Colchester Gazette, Tuesday July 2, 2013
- Essex County Standard, Friday August 2, 2013
Cuckoo Farm Studios, Boxted Road, Colchester, Essex CO4 5HH
+44 7440 158361